Featured Vacation Rental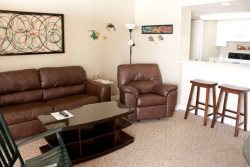 307-1-bedroom
ROCKPORT FULTON VACATION RENTALS
Our goal is to offer you a relaxing, comfortable, safe and stress free guest stay. With that thought in mind, please allow us to inform you of our policies.
We must receive your reply email or faxed signed reservation confirmation within 72 hours of making your reservation or your reservation will be cancelled.

Your credit card or debit card will NOT be charged for your rental until you check-in. At check in please make sure the credit or debit card on file is the one you wish to use. We are unable to make any changes after you have checked in.
If you booked online, please be aware that once you confirm this reservation, the $50 online booking deposit is not refundable.

Cancellations: All reservations require a credit card guarantee at time of booking. The credit card will not be charged until check in. If you do not arrive, or if you cancel less than 72 hours (3 days) prior to your arrival, your credit card will be charged. Prior to arrival your credit card will be charged in full. Failure to do so will result in a cancellation fee equal to a 1 night rental rate. For reservations that are 1 week, but less than 1 month, in duration, 1 week's advance notice is required. Failure to give this notice will result in a cancellation fee equal to 3 days rental rate. 30 day's notice must be given in advance for reservations 1 month or longer. Failure to do so may result in a cancellation fee equal to a one week's rental rate; however, if notice to cancel is received less than 14 days before arrival, the full monthly rental rate will be charged.
Check in time is at 3 p.m . Check out time is at 11 a.m. Should you wish to check in early, or late check-out, please call the front desk. If an 11:00 check out has a 3pm arrival for the same day, a late check-out cannot be granted. Otherwise, there is a $10 per hour for either early arrival or for a late check-out, based on availability.
Late Arrivals: Please know that if you will you need to check in after 5pm, you must make arrangements through the office a minimum of three hours PRIOR to your arrival so that we may make arrangements for you to receive your key and information packet after our office closing hours. Your credit card or debit card on file, when you made your reservation, will be charged prior to 5pm on your day of arrival. Please make sure that you have given the front desk person the correct credit card on file information to run your charges. After the card has been run, we may not make card changes or adjustments.
A $300 deposit is required at check in. This deposit is returned to you once your room has been inspected to insure there is no damage. If you elected to place your $300 deposit on your debit card, once the amount is refunded, it may take up to 48 hours for your bank to credit your account.
Pets: Please note that dogs are allowed in certain units with current shot records at the time of arrival. Maximum of 2 K-9's per unit. No Exceptions. Should your room, suite, or condominium be found to have a pet of any kinds, you will be charge $200 per day, per pet, and, you could be asked to check out of the unit with no refunds.
Smoking: All units are non-smoking. . There is a $200.00 fine for smoking in the unit, or if any smoke smell, cigarette butts found in the room, or on the balcony the fine will be charged to your statement. There will also be additional charges for cleaning fees to remove smoke smells.
Each unit has a maximum capacity. You will be asked to specify the names of the
people in your party. Should you exceed the maximum occupancy, a $200 per day,
per person fee will be assessed, and /or you may be asked to check out early with no refund being made to your statement.
All children 14 years of age and under must be accompanied by their parents or legal guardian when they are all swimming pool areas, all fishing piers, on property parks, and any on property recreational areas.
All guest vehicles, including boats and motorcycles, must have a current property parking tag either hanging from the rear view mirror or on the boat/motorcycle in view.
We look forward to seeing you in Rockport! Please let us know if there is anything we may assist you with. We wish you a great stay with wonderful memories to take home.